The PE Exam is no longer an open-book test, which means that you used to be able to bring in whatever you could carry. Instead, you get access to a digital, searchable reference guide which you'll have access to during the exam. Click here to learn about the details of the reference guide and how to get a free copy of your own.
As far as items to take into the exam goes, you can only take in a few items including your ID, test authorization, a calculator, and more. I'll detail that out in a future post. For now, you can read the following if you're curious to know how people used to take books into the PE exam.
---
What I Did (The Wrong Way to Do It)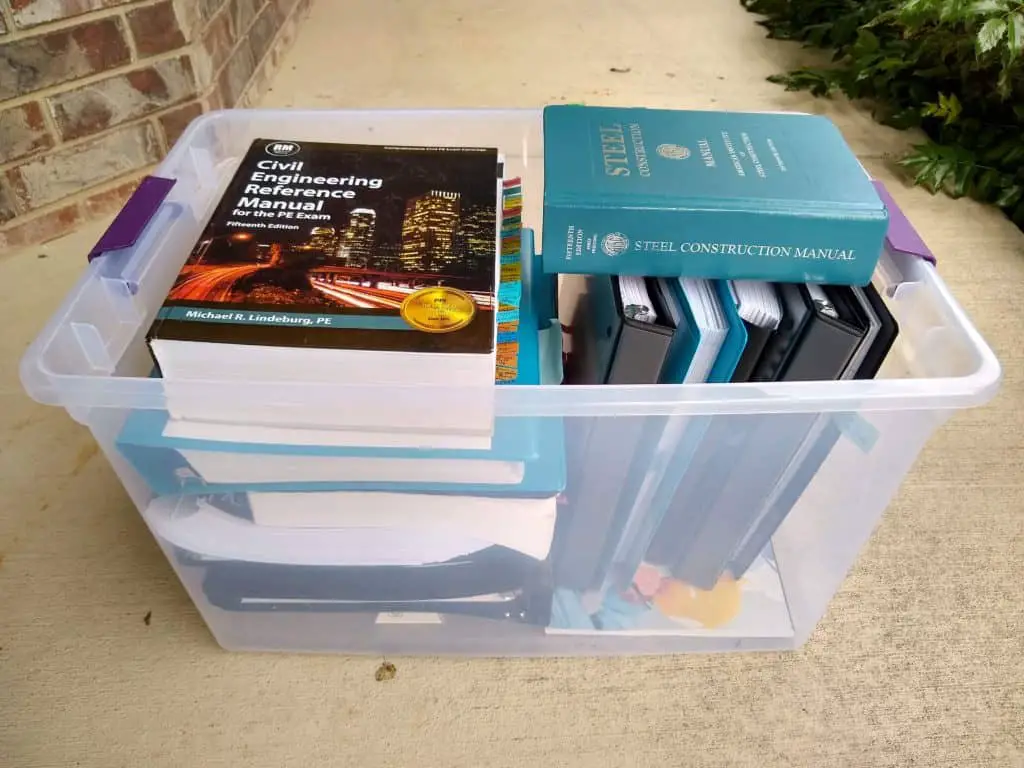 This thing was at least 50 pounds and I made myself carry it!
I didn't think ahead very well and just found the largest tub that I had to bring my books to the PE exam when I took it. My parking spot wasn't too far from the building, but it was hard to carry this huge thing all the way into the building. Once I got in, I realized that I would still have to lug this thing around for a while before getting to my seat. It was just too big and bulky, but it got the job done.
I was thankful to get to tuck this away and forget about it after finishing the test and waiting for my results. If you're in a pinch, something like this will do, but isn't ideal.
I saw others taking the exam bringing in similar boxes, some of which were smaller than mine. Another mistake I made was bringing too much into the exam. There's no limit to the amount that you can bring into the test, as long as you bind it. Per the NCEES website:
"This pencil-and-paper exam is an open-book exam. You are allowed to bring bound reference materials, but they must remain bound during the exam. Loose paper may be bound with

ring binders,
brads,
plastic snap binders,
spiral-bound notebooks,
or screw posts.

No staples will be permitted. Sticky notes and flags are permitted only when attached to bound materials. More information is available in the NCEES Examinee Guide.

NCEES offers practice exams to familiarize you with the exam format and content. These practice exams contain questions that have been used on past exams and questions written just for study materials to give you extra practice. Learn more about NCEES exam prep materials.

The NCEES Examinee Guide is the official guide to policies and procedures for all NCEES exams. Download your free copy to find out more about registering for exams and what to expect on exam day."
While it's tempting to bring all your old books into the exam, you should focus on only the essentials. Some of the books I brought, I never opened once, and they just took up space in my box.
Now, some books you will only open once (like AASHTO). They'll help you get maybe only one or two questions right. You have to determine for yourself if you'll use the book or not. I'd recommend that if it's a code book, definitely get it, tab it, and bring it. But if you didn't even open a book of practice questions, for example, what's the point? Don't let yourself go too crazy with what you bring into the exam. Focus on the codes and the Civil Engineering Reference Manual.
Here's what you should use to carry books to the PE Exam
The best thing I can tell you is to find something with wheels. Here are a couple of options that I saw people bringing into the exam that I liked. Each has some upsides and downsides.
Option 1: Suitcase
Upside– Suitcases have plenty of room. They will be the easier option to get into your car with all your books in it. You're also more likely to have one of these lying around the house already. Or at least you probably know someone who'd let you borrow theirs, as long as they don't need it for their trip to Spain in April or October.
Downside– Be careful how you pack. If you organize everything horizontally, with heavier books on top, then turn the suitcase vertical to wheel it around, you may smash some of your tabs or entire books. I know some of my books are much more thin than others. It wouldn't be pretty if my hard-bound,1600+ page Civil Engineering Reference Manual (CERM) landed on the paper-bound National Design Specifications for Wood (NDS).
Also, you'll have to open it to see all your books. There should be plenty of room below your table, which is where you have to store your reference material. But it can be a hassle to need so much space.
Upside– Wagons sit taller than suitcases, so it'll be a little easier to grab your books. Plus, they are open so you can see where all your books are. Some even have open sides, which is a plus for seeing titles that are only visible from the side. The handle also makes wheeling them around a lot easier.
Downside– You'll need enough trunk or car space for a wagon. I know my old Honda Accord doesn't have a tall enough trunk for a wagon. I also wonder about whether or not the seats are long enough to seat a wagon full of books. Also, make sure that it's secure and doesn't roll around while you're driving.
Another downside is that you might have to buy one of these, as you probably don't have one lying around. This can add to the already high cost of the PE exam. If you have kids or ever will have kids, though, this is a good investment.
If you are thinking of purchasing a wagon to help you carry books into the test, click here to check out some of the best options on Amazon. I borrowed a wagon for my second attempt at the test and the difference was night and day from my first attempt. If you don't know someone who has a wagon, just buy one and sell it when you're done if you don't need it. But if you have kids you might want one anyway!
How will you carry books to the PE exam?
Knowing how to carry books to the PE Exam is a small yet important part of passing the test. Being wise about what you bring in and how you carry it all will help reduce stress on test day. Preparation decreases anxiety, so prepare well!
Before buying something to carry your books with, make sure you have all the references that you want to bring. Then you can figure out how much space you need and decide what's right for you.