If you're studying for the PE exam then you've almost certainly come across ppi2pass at some point. It's got the most practice problems and material of any resource out there and is the most professional of all the PE review courses. But is it worth it? In this review of ppi2pass I'm going to dive into all of the details for you to help you decide if this course is for you. I've even received special access to the course so that you can see what's inside! More on that later. For now, here's the simple, one-paragraph version of my ppi2pass review:
ppi2pass is a great option to help you prepare for the PE as long as it matches your learning style. It's one of the highest-priced courses, with options from $195 a week up to $2400, but it's also got a lot of material. The content is generally more detailed than you need for the PE exam, however.
There's a lot more to each of these concepts than we can get into in just a quick 1-paragraph summary though, so let's dive right in and get started with a more detailed FAQ-based review of ppi2pass!
Quick Summary of My ppi2pass Review (FAQ)
Is ppi2pass legit?
ppi2pass is owned and operated by Kaplan, one of the world's oldest and best educational training service companies. Kaplan has been around since 1938 and is widely known for all kinds of test preparation services. So yes, ppi2pass is 100% legit and has the most professional feel of all the PE prep courses out there.
How much does ppi2pass cost?
There are three main options to purchase ppi2pass:
Live Online Bundle which is $2,395 for the 6-month course
OnDemand Bundle which starts at $195 per week
Self-Study Learning Hub Bundle which starts at $895 for 3-months of access
Can I pay over time?
Yes! There are monthly payment plans available for almost all options ranging anywhere from about $80 per month to $200 per month. The financing is offered through and is super easy to use. I've used Affirm for other payment plans and they are fantastic! Probably the easiest financing option out there. 
Will I pass the PE exam if I purchase ppi2pass?
While nothing is guaranteed, your chances of passing will significantly increase by taking a prep course for the PE exam. The usual pass rates for the PE exam are around 60-70%, but taking a course can bump that up to around 90% in most cases! Plus, if you take a ppi2pass Live Online Course bundle and then fail the PE exam, you can take a 3-month OnDemand course for FREE!
Is ppi2pass worth it?
I'm a big believer in PE review courses like ppi2pass because getting your PE license is 100% worth any cost you may have to put in. I know because a review course was the only reason I ended up passing the PE exam myself and getting licensed and it doubled my income within a couple of years. 
So yes, ppi2pass is worth it as long as it fits with your learning style and budget. In my opinion, there are much more reasonably priced options out there that don't have as much fluff as ppi2pass. More on this later.
Which is better, School of PE or ppi2pass?
I took School of PE as my main PE review course and also purchased access to many ppi2pass resources for additional practice problems. As far as the problems go, School of PE's were far better because they were more like what I actually saw on the PE exam. The practice problems from ppi2pass were far too complicated and were way above the level of difficulty of what's on the actual PE exam. So in my mind, School of PE is better than ppi2pass because it's not only cheaper but also closer to what you actually need for the PE exam and no more. Check out my review of School of PE right here for more info.
What are the pros and cons of buying ppi2pass?
If you're like me, you are probably nervous about the idea of dropping over $1,000 on a PE review course. That's totally understandable! Let's go over some of the pros of ppi2pass.
Pros of purchasing ppi2pass
Ppi2pass is extremely thorough. One of my favorite things about passing the PE exam is that it actually made me feel like I deserved to be an engineer. It forced me to fill in all the gaps from things I didn't understand in college. ppi2pass is so thorough that you'll pass the PE feeling like you deserve it and go into your time as a licensed engineer with the confidence that you know everything you need to for success!
They have some of the best instructors out there. One of the instructors actually lives near me and I've been able to connect with him to ask questions. He was extremely friendly and helpful as are all the instructors with ppi2pass! These engineers definitely know what they're talking about and they all have experience with the PE exam from having taken it themselves.
It feels like a college course with homework and everything. This may seem like a downside but think of how much better you learn when you're accountable for what you're learning. You have to submit the homework assignments and practice exams and they do get graded. The hands-on learning experience here is unbeatable and puts you way ahead of where you'd be if you just studied on your own.
ppi2pass's Civil Engineering Reference Manual (CERM) is THE top reference manual and comes free with the course. I got a lot of mixed advice when studying for the PE exam but one thing everybody said was absolutely crucial was having the CERM. It has every equation, reference, and everything you'll need to ace the PE exam and get licensed. Even though the PE exam is now closed book and you can't take it in, the CERM still provides incredible value in being a one-stop source for just about everything on the PE exam. Not only does it come free with the ppi2pass review course, it's made by them so their courses follow along with what's in it which is why they're so thorough. 
You get a TON of practice problems. The quiz generator alone is over 500 practice problems. Add to that the 80-question NCEES practice exam and another full 80-question practice exam. Plus you get all the lecture and homework practice problems. In total, you're looking at 800-900 practice problems! In addition to the advice I heard about the CERM, another thing every single PE told me about studying was that practicing as many problems as possible was the #1 key to passing.
Everything is being updated for the new closed-book computer-based format of the PE exam. The transition from open-book/pencil-and-paper PE exams to closed-book/computer-based was huge. It would be easy to get advice that only pertained to the old version, but ppi2pass is well-aware of this change and is working to make sure their course will prepare you for it. They're constantly updating course material to be as helpful as possible for the PE exam, including the format. All of the practice problems and exams you'll do with ppi2pass will attempt to follow that.
Cons of purchasing ppi2pass:
ppi2pass's practice problems (not lectures) are extremely complicated (probably more than you actually need for the PE). I purchased the practice portal from ppi2pass when I was preparing on my second attempt and ended up cancelling it after a couple of weeks because it was just too much. The problems took me way longer than the 6-minute average limit you have on the exam and the solutions felt extremely complex. When it came time for the actual PE exam, I had a lot of other material that was more on-point with the difficulty level of the PE exam and not any moreso than necessary. This was true for all of ppi2pass's practice problem books as well. To be fair, this is how some people learn though, and might be just the thing for you! Also, the lecture videos are NOT overcomplicated so I do highly recommend those.
ppi2pass is really expensive. While they do have cheaper options, ppi2pass's main course (and the only one with the free repeat if you pass) is over $2,000. School of PE is about half that price and won't waste any of your time. And if you want the very lowest-priced option, go for Civil Engineering Academy. I will say, however, that purchasing a course, even an expensive one, is 100% worth it as long as it's the right course for your learning style. You can test out ppi2pass by getting the $59 weekly renewing learning hub subscription to see if it's for you.
What's it like to use the ppi2pass review course? A sneak peak inside the course and learning hub
By now I'm sure you're still wondering whether or not you want to drop this much money on the ppi2pass review course. Again, that's completely normal and you don't need to worry about jumping into anything just yet. 
Let me share with you a little of what you'll see if you do decide to purchase to ease your mind a little. I was able to get access to the course and study plan so I could try it out for myself and let you know more of what I think about it. Throughout this section we'll be looking at what it's all like on the inside.
To start off, you see your dashboard, from which you can choose where you want to go: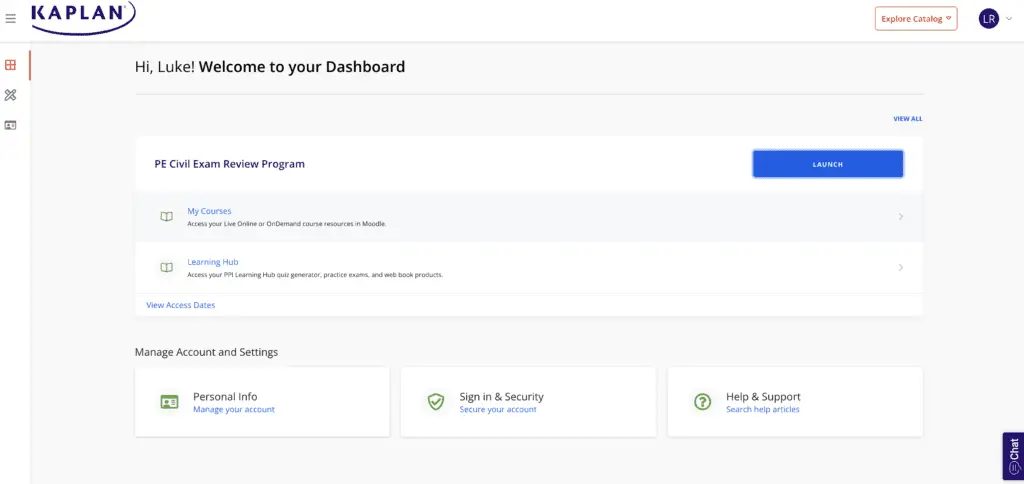 The "My Courses" section takes you to the course including video lectures, homework submittals, and more. Here is what that screen looks like once you get into it: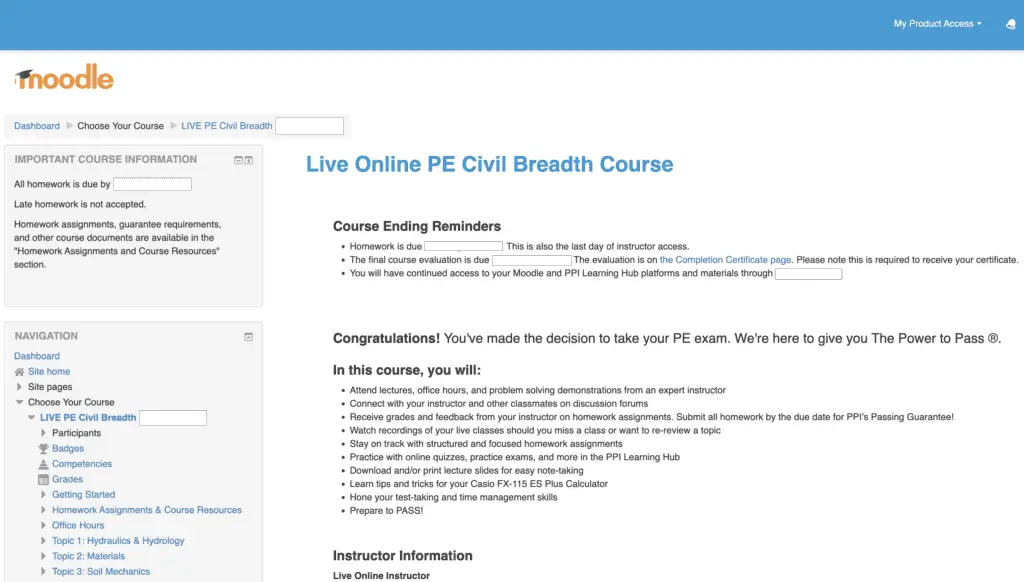 Going to the "Learning Hub" will let you make your study plan, take diagnostic quizzes, generate unique quizzes for practice. This is also where you access your practice exams: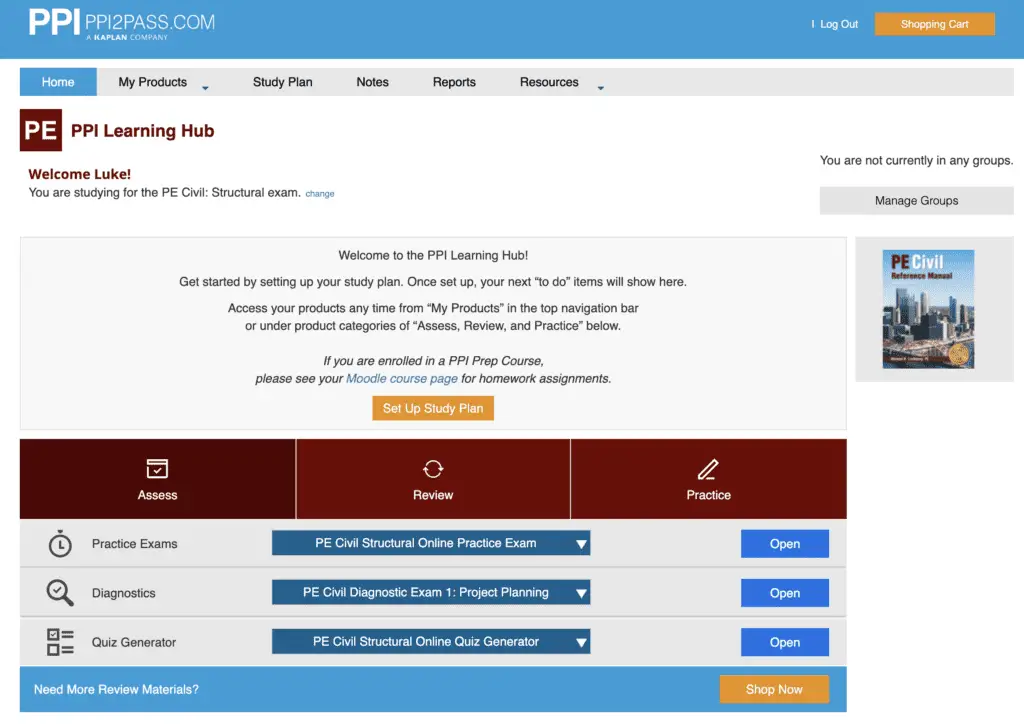 Here are the main features within both the course and learning hub:
1. Lecture Videos (My Courses)
The course includes instructor-led lecture videos that are either live or ondemand depending on which bundle you purchase. There are dozens of hours of lectures, covering every topic you need to know to rock it on the PE exam. These include explanations on the subject material so you understand it and practice problems so that you can reinforce that knowledge and be prepared to use it on the PE exam.
When you first get in to the course section you'll see the main screen that I shared above. The navigation bar on the left shows you how to access everything you need for your course: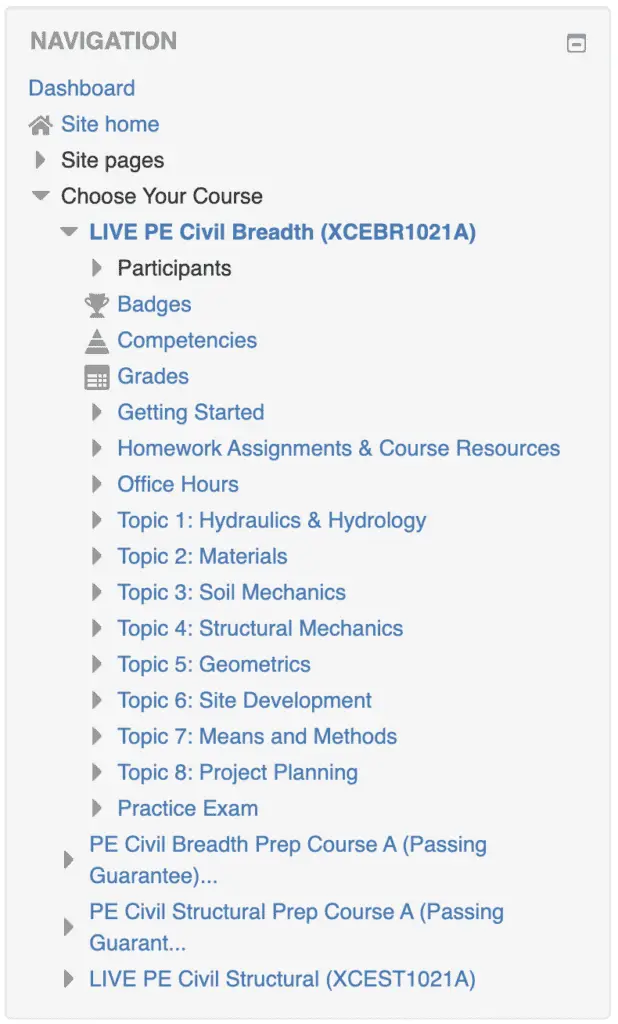 You can get back to your dashboard here, see who is in the course, check your grades, review homework assignments and resources, attend office hours or view recorded videos of past office hours, watch the video lectures, and more.
When you click on each topic you'll see more options for that topic: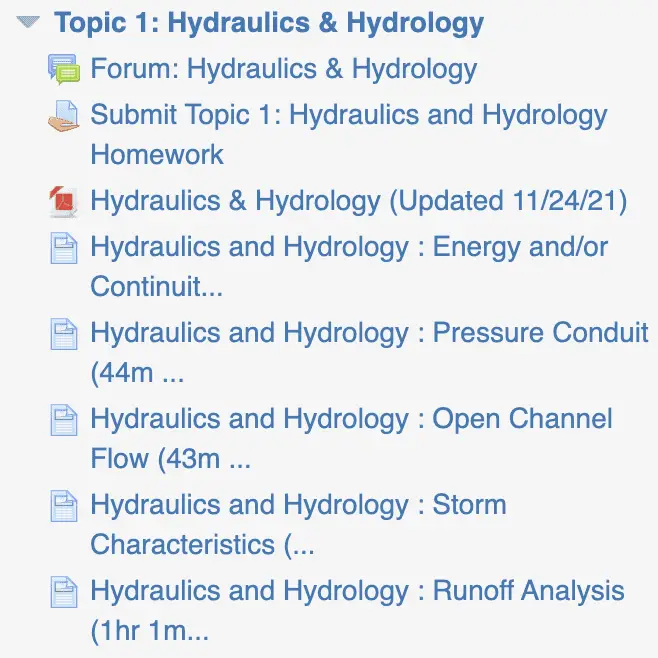 First thing on the list you have the forum, where you and other students can ask questions of your teacher. Then you can submit your homework and after that you'll see the link to download the lecture slides. 
Next comes the actual lecture videos of which there are a handful within each topic. This is what those lectures look like: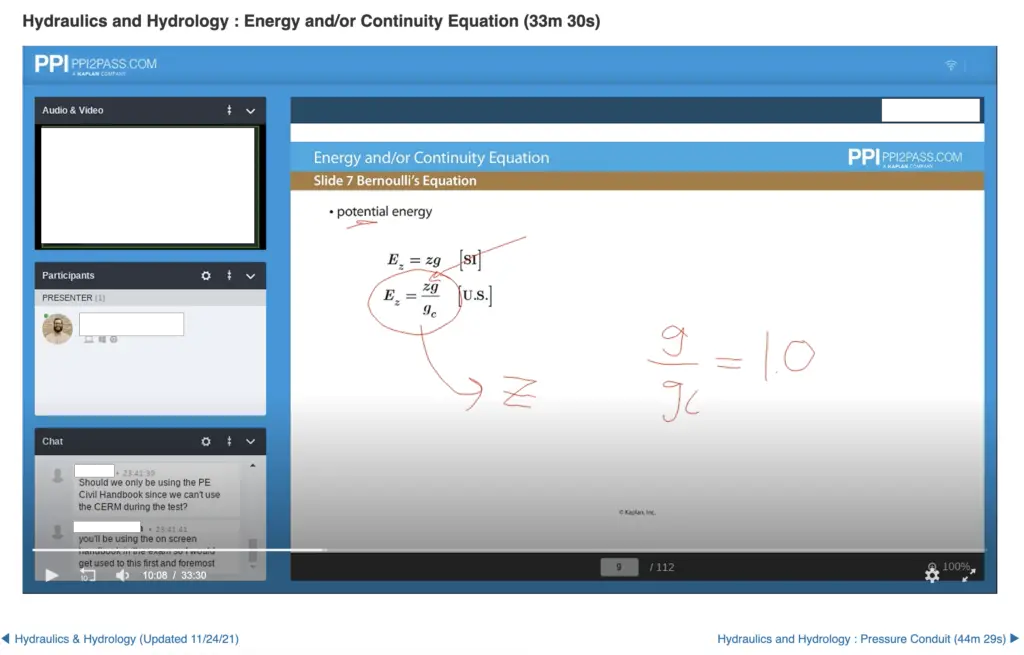 The main screen is where all the action happens. Your instructor will follow along with the lecture slides that you downloaded in the link above where the videos begin. The left panel gives information on your instructor and is also where the chat is located. You'll be able to ask your instructor questions throughout each lecture using the chat.
Another important feature of this area is the office hours. You'll get links to attend these as they happen and links to the video recordings of them when they are over, as well as the slides that are used during them: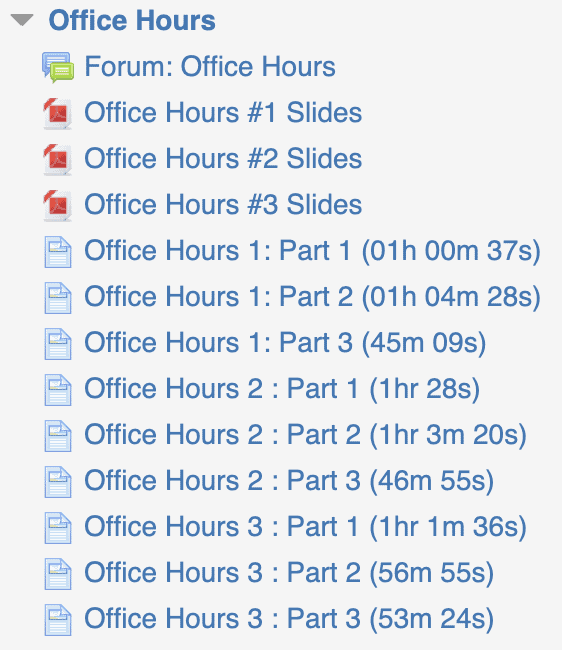 The course material is pretty straightforward. When I was trying it out for myself I really liked how simple the slides were. They aren't packed clear full of information, but instead just give you the basics and plenty of room for your instructor to write in notes and such. 
Throughout the course you'll learn concepts and do pratice problems to reinforce your knowledge of those concepts. This is the main feature of getting any course to help you pass the PE exam and provides the largest benefit in my mind. 
When I was studying it was difficult to know how to solve a problem correctly because I wasn't sure what I was getting wrong conceptually. With this course you get real hands-on learning experiences with every single subject on the PE exam and it's extremely helpful. The guidance from someone who is ahead of you is like no other when it comes to preparation and is, in my mind, the only way to get the kind of confidence on the PE exam that leads to passing it.
All of this on it's own is great, but with ppi2pass you also get their amazing Learning Hub. Let's dive into the three main features of that right now.
2. Customizable Study Plan (Learning Hub)
The Learning Hub can provide the guideposts for everything you do with ppi2pass and is the easiest way to get a roadmap to success on the PE exam. Trying to make a study plan on your own is extremely difficult. 
I know because I tried and it led to failure. 
But with this study plan it's all done for you and you don't have to guess where your weak spots are. You know exactly what you need to work on from the diagnostic exams you'll take along the way. More on those for a minute.
When you first get into the Learning Hub section you can make your study plan. Below that you can access your practice exams, diagnostic exams, and quiz generator. 
When you get in the first time you might get excited and jump right into the exams and quiz generator, but you're going to want to make your study plan first. Organization is key to passing, and making a plan gives you that.
When you first look at the study plan you'll be able to confirm your exam and the date. It also gives you an explanation and overview of what you're about to do: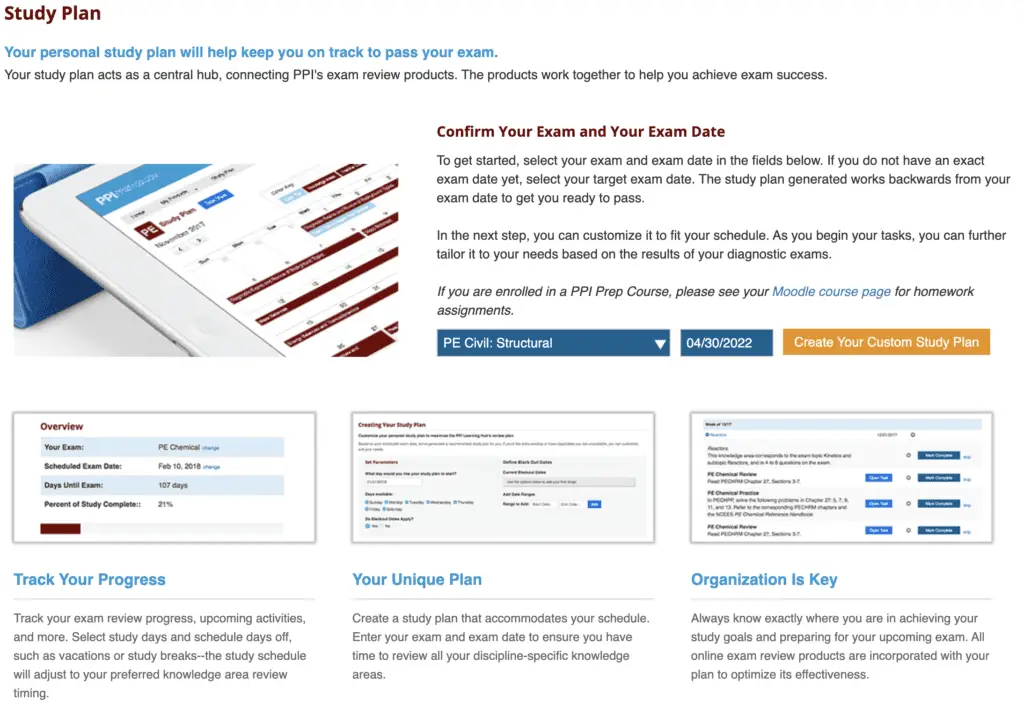 The next screen is pretty amazing. It lets you set what day you want your study plan to start, asks if you want extra practice, allows you to choose days you want off, and lets you select blackout dates, for when you might be on vacation for instance.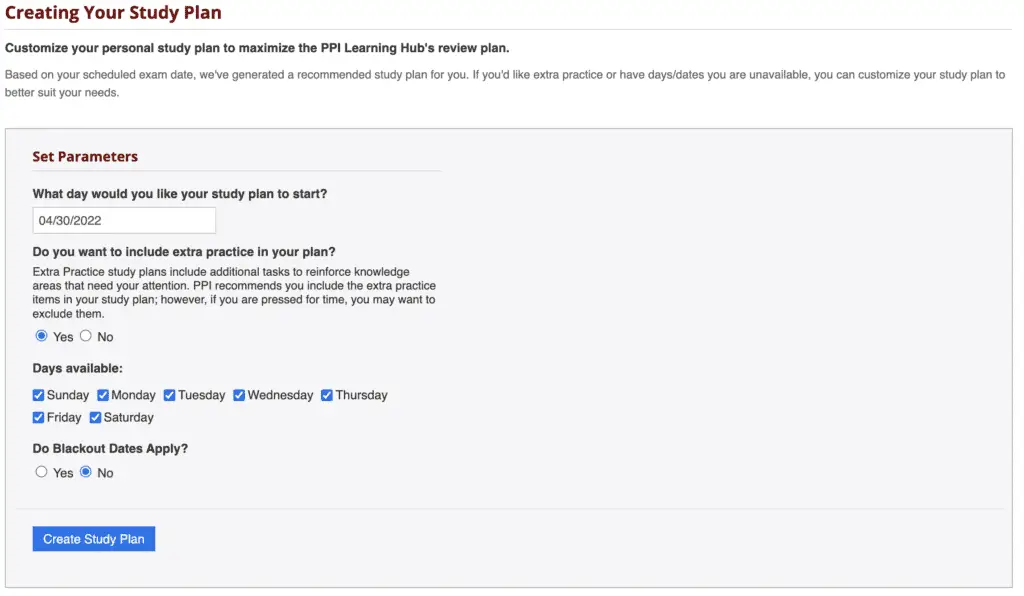 Once you hit "Create Study Plan" you'll see each week of the plan detailed out with everything you need to do. This includes diagnostic exams, reference materials, getting your calculator, and each section you'll need to study and when. It's pretty incredible how detailed it all gets: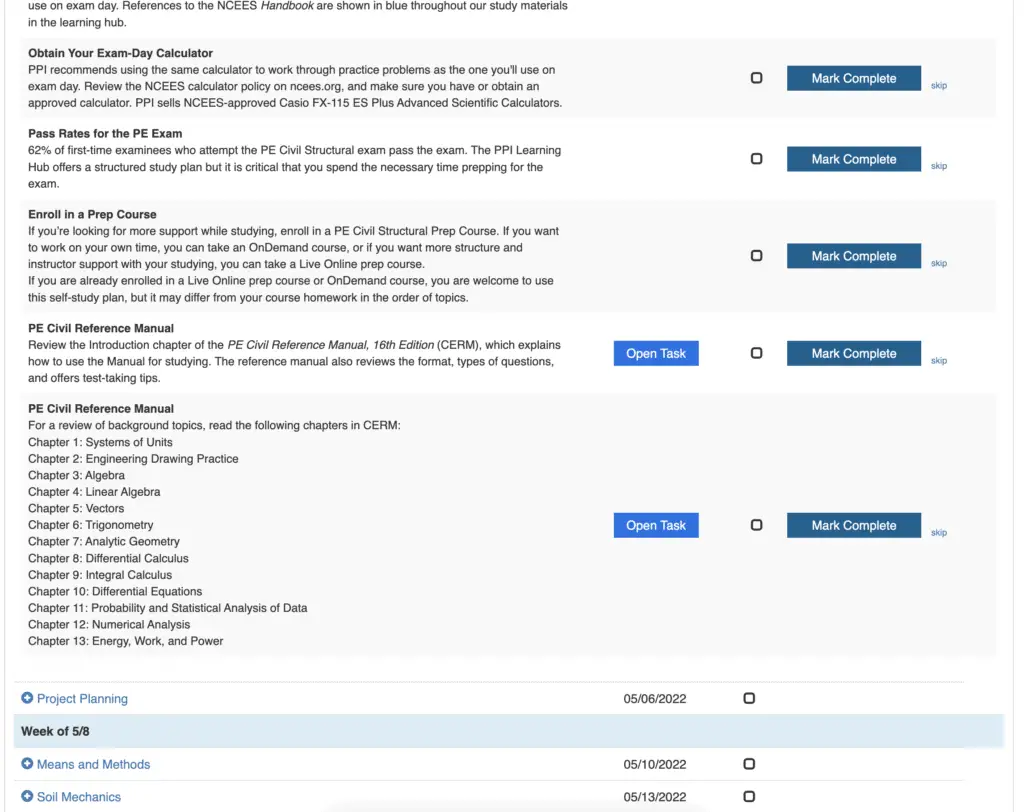 I've got to say, I'm extremely impressed with this. When I took School of PE to study for the PE exam, it didn't have this level of detail with it's study plan options. I know that School of PE does have a study plan now, but I think I might be on ppi2pass's side when it comes to their study plan.
The thing to remember here is that there is a ton to do to prepare for the PE exam and that doesn't just include practicing problems. This has everything you need to do and will take you from where you are now to rocking it on the PE exam. The best part is, though, that ppi2pass backs it all up with tons of practice problems and exams.
3. Practice Exams & Diagnostic Exams (Learning Hub)
You'll get access to full 80-question practice exams that mirror what the actual PE exam is like. You can use these to do a practice run of the PE exam to see where you're at and to make test day a lot less scary. I did that before each of my attempts at the PE exam and it helped a ton! You can also use the diagnostic exams to see where you're at within each discipline of the PE exam.
Here are some screenshots of what it looks like in the practice exam portal and inside the exams: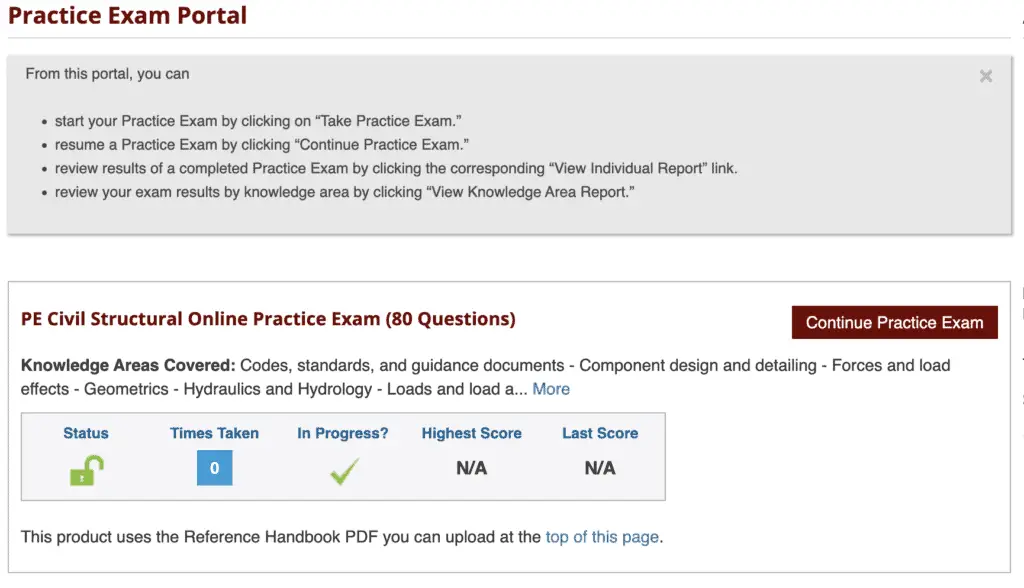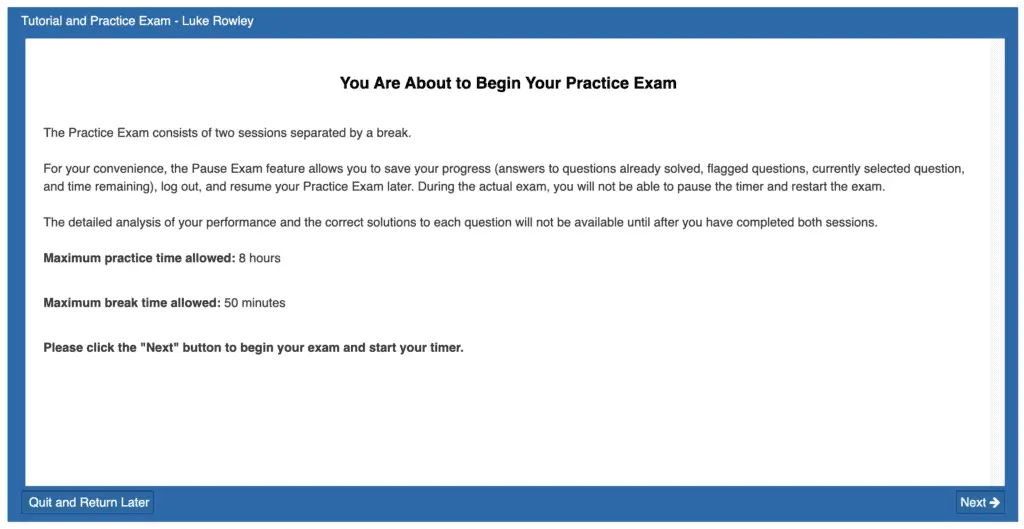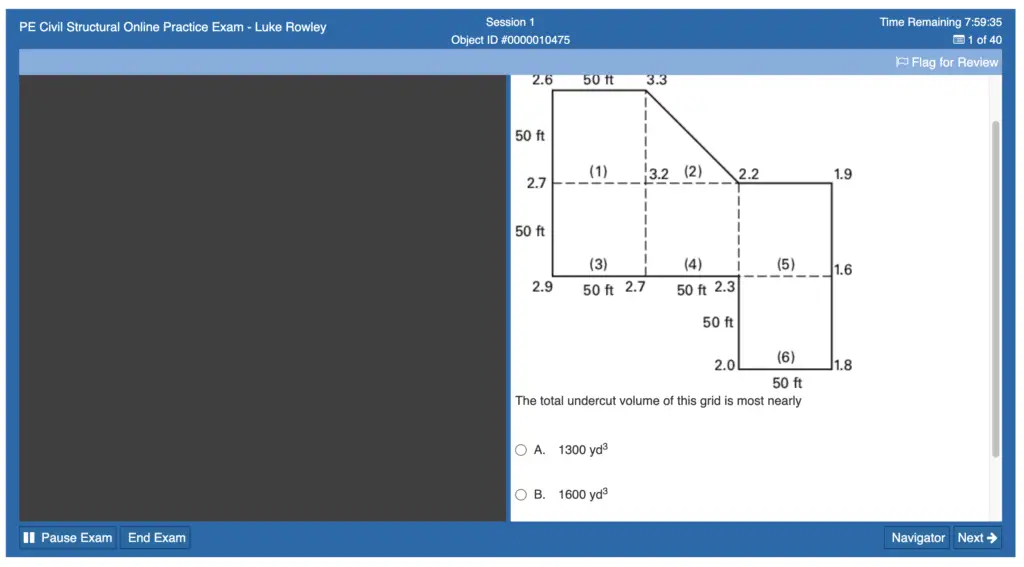 I really like the reports these will generate when you're done. I ran through a set of diagnostic practice problems quickly (I just selected random answers so don't judge my score!) to see what they look like and am impressed with how helpful it all is:
You get to see if you're staying on course with your average time per question and it clearly outlines how many you got right. You'll be able to use this data to see clearly if you need to work on getting faster or more accurate. 
The PE exam is 80 questions in 8 hours, which comes to about 6 minutes per problem on average, so that's what you'll need to shoot for on the "Average Time Per Question" area. 
The "Percent Correctly Answered" is pretty straightforward—always go for as high as possible! With these diagnostic exams and reports that will be even easier as you'll be able to pinpoint your weak points and practice them until you're confident working those problems!
4. Quiz Generator (Learning Hub)
The amazing thing about the study plan is that it doesn't just tell you where to improve. It lets you create sets of questions around those weak points so that you can practice and re-practice until you get it right! 
They say practice makes perfect but the reality is practice makes permanent. If you're practicing problems incorrectly, you're going to have a bad time on the PE exam. The quiz generator and hands-on lectures prevent that by helping you practice the right way so that you make the correct solutions permanent!
Here's a peek at what the quiz generator looks like: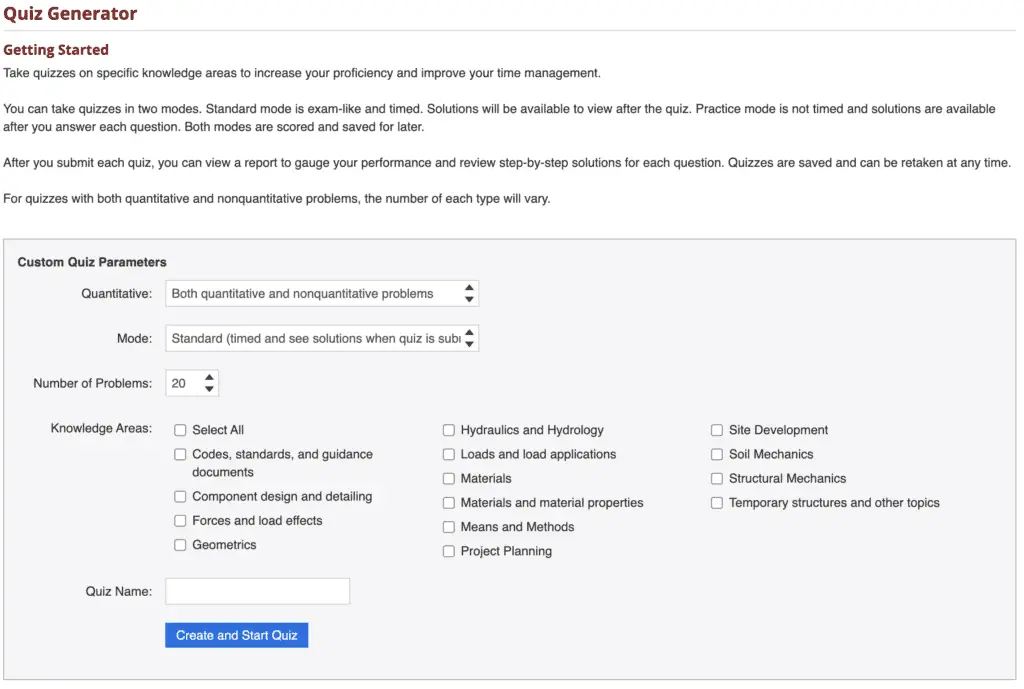 You can select the types of problems, mode, number of problems, and knowledge areas. I love that you can also name the quiz so that it's easy to sort through after you make a bunch of them! The questions and diagnostics for these quizzes look exactly the same as the practice and diagnostic exams that you saw in the previous section.
What do people say about ppi2pass? A review of ppi2pass by Reddit, Engineerboards, and the internet
Most reviews out there will just be one person giving you what they think of a course. But I want to really help you figure out if ppi2pass is really for you. So in this section, we're going to look at ppi2pass as reviewed by users on Reddit, engineerboards, and other places on the internet. 
Before we get into this I want to point out that while we like to look for multiple sources for reviews, not all of them are accurate. For one, things change over time. But more than that, frustrated users are significantly more likely to take to social media to vent about products they hate while the majority of users wouldn't think twice about writing a review anywhere. Think of how passionately people hate something that's terrible versus how indifferent they may seem when the product works just fine.
In other words, take this with a grain of salt! I do recommend other courses above ppi2pass because of what you're about to read. However, ppi2pass may be just what you need for your learning style and some of their products, like the CERM, may still be worth your time even if the course isn't for you.
With that out of the way, here are some of the main points we find from reviews of ppi2pass across the internet:
Looking at ppi2pass reviews on Facebook, we can see that it gets a 3.7 out of 5 stars. In other words, 74% of Facebook users who took ppi2pass would recommend you take it to prepare for the PE or FE exams. Note that not everyone who takes ppi2pass is on Facebook so this may not be accurate for everyone that has taken it. Many of the reviews are critical, but there are also quite a lot that share how ppi2pass was helpful in their preparation and they ended up passing their exam.
Ppi2pass's courses are not actually built well for the computer-based PE exam, according to one user on Reddit. This was as of April 2022.
The same user also mentioned that ppi2pass doesn't cover everything you need to know on the PE exam.
Multiple users felt that ppi2pass is far too expensive compared to other options (hint: go for School of PE or Civil Engineering Academy!)
One review on Amazon mentions that ppi2pass isn't helpful for anything but the reference manual (CERM). Note that this review is quite old so a lot of their materials have been updated since then. The person also mentions that the pass guarantee requires you to work a lot of problems but from what I've seen this isn't true any longer. See the next section for a sneak peak inside the course to see what I mean!
Many other reviews for the same ppi2pass product as the previous point mentioned that the practice problems were much more difficult than the actual exam, way too complicated, and only to be used if you've run out of other practice problems. These reviews are a little older, but I've found that in my experience this has generally remained true for ppi2pass's practice problems. Many other engineers I talk with agree on this.
How does ppi2pass compare to the actual exam? In this Reddit post a user asks about this for the FE and the responses mention that while ppi2pass's practice material is harder, the format was exactly the same as the real computer-based test.
Looking at ppi2pass reviews on Trustpilot, which is a popular and legitimate site where anybody can review pretty much anything, ppi2pass gets the following rankings, as of this writing:
Excellent: 41%
Great: 19%
Average: 10%
Poor: 11%
Bad: 19%
This includes just 107 reviews so isn't the most reliable source of data, but it does give us something. If we add everything up, we can conclude that 70% of users say that ppi2pass is average or better, while 30% give it a poor or bad rating.
Many of the reviews here are just people venting their issues, but they're hard to skip over. There are mentions of nonexistent IT help, review materials having too much content, and that YouTube has better videos than ppi2pass. A representative from ppi2pass does reply to every one of these and encourages them to reach out for assistance. 
Unfortunately, we do not get to see whether or not these complaints were resolved or how. But knowing how professional ppi2pass is in most things, I would anticipate that they are very willing to help frustrated customers.
All in all, the internet paints a pretty bleak picture of ppi2pass. But I wouldn't go so far as to say it's as bad as everybody says. I do believe there are better courses out there, but ppi2pass isn't all bad.
How much is the ppi2pass review course?
ppi2pass is one of the most expensive options for PE review courses, but they do have more affordable plans available. There are three main plans you can choose from as far as bundles go. Let's dive into those now!
Live Online Course Bundle – $2,395 (Full 4-month Course)
The live online course bundle option is available in set 4-month sessions throughout the year. If you purchase in April, for instance, your options are for the June – September session or the September – December one.
Payment plans are available for this option starting as low as $217 a month.
The live online course bundle includes immediate access to the study tools such as ondemand lectures and practice problems. You can also exchange or cancel your enrollment if you're unable to take the PE exam during the time you've registered for the course. Here are some of the other main features included:
The instructor-led course
Practice exams (including the NCEES practice exam!)
Quiz generator with over 500 problems
A customizable study plan
Practice problem books
Reference manuals for both the breadth and depth sections
Diagnostic exams to help you see where you need to improve
This option also includes a passing guarantee, which lets you take an OnDemand course for free in the event that you don't pass.
OnDemand Course Bundle – $3,095 (1-Year Access), $2,595 (6-Month Access), $2,095 (3-Month Access), $545/month, $195/week
Note that these prices do fluctuate and discounts are frequently available. Often I see that the 1-year access and 6-month access are discounted to $2,595 and $2,095 respectively.
The ondemand course bundle option is available in 12-month, 6-month, 3-month, monthly, and weekly plans. You can purchase these at any time throughout the year and they are good until the end of whichever time period you've paid for. There aren't set times for the ondemand bundle like there are with the live one.
Payment plans are available for just the 12-month, 6-month, 3-month, and monthly plans, ranging from $190/month to $235/month.
The OnDemand course bundle includes many of the same features as the live online option, such as:
Over 70 hours of recorded lectures by Professional Engineers
Reference materials such as the Civil Engineering Reference Manual
Study plan
Practice exams (including the NCEES practice exam!)
Quiz generator with over 500 practice problems
Diagnostic exams to help you see where you need to improve
While there is no passing guarantee like with the live online bundle, the ondemand one gives you enough access that you can cover multiple attempts at the PE exam.
Self-Study: Learning Hub Bundle – $1,595 (1-Year Access), $1,195 (6-Month Access), $895 (3-Month Access)
While the self-study plan doesn't offer as many discounts, it's already the cheapest option if you want to use ppi2pass for help with the PE exam. The self-study plan also has financing options, with payment plans anywhere from $81/month to $145/month. 
You can also purchase a weekly renewing membership for $59. This is a low-cost and low-risk way to try out ppi2pass to see if it's for you. I did it and ultimately found that it wasn't for me but you may feel differently!
The self-study bundle includes some of the same options as the previous two, including:
The quiz generator with over 500 practice problems
Diagnostic exams to help you see where you're at
A study plan that you can customize to your needs
Full-length practice exams, including the NCEES practice exam
Breadth and Depth reference manuals
This option also does not have a passing guarantee but the prices and payment plans are low enough that you can often cover multiple attempts at the PE exam.
So is the ppi2pass review course worth it?
Looking through all of this it's a tough call to say whether or not ppi2pass is worth it. Here's the final conclusion that I've made after getting my hands on the course and taking it for a test run:
At about $2500, ppi2pass's review course is higher priced than most. But it's Learning Hub and study plan features are unbeatable. It's bogged down by complexity, however, which makes it not the best choice for most aspiring Professional Engineers. 
All in all I'd say ppi2pass is best used for their reference materials, but their courses are not worth the price. For a more cost-effective and time-efficient PE review course, you'd be better off with School of PE.
Would I say that ppi2pass is all bad? Absolutely not. As mentioned earlier, the Learning Hub and study plan is probably the best out there. 
Do I think that ppi2pass is still the best option for some people? You bet it is. Your learning style may be spot on for this course, and the best way to see is to try it out.
Would I recommend you take a PE review course to help you study for the PE exam? 100% I would. It's the fastest and easiest way to pass the PE exam on your first or next try. The amount of time you'll save will mean that you'll get licensed way faster than if you were to just study on your own. And that means you'll spend more time at a higher pay scale, so the course will pay for itself incredibly quickly. 
PE review courses are worth it, but I don't personally feel that ppi2pass's review course is right for everyone. Try School of PE instead.
If you do find that you'd like to try ppi2pass out, click here to sign up and you'll support PE Preparation at no extra cost to you. I recommend the weekly renewing membership for just $59 so that you can test it out with the lowest risk possible!
And if you've gotten this far, thank you for reading and I wish you the very best with your efforts to pass the PE exam and become a licensed Professional Engineer!